"Why would you want to live in a third world country?"  was a question I heard often, both before and after I moved to Ecuador.  [The question of whether Ecuador is a third world country or actually a developing country shall remain an academic question here but you know my bias.]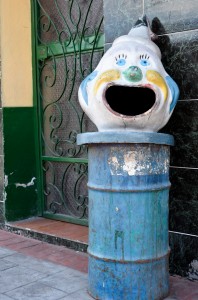 Ask most expats their reasons for moving to Ecuador, certainly those over 60, and the great majority will mention greater financial ease.  Others will also talk about embarking on an adventure and the desire to travel in retirement.  Certainly moving to a developing country serves all these motivations.
However – notwithstanding the value and import of those – there are six other powerful reasons to relocate to a developing country that could potentially lengthen your life, and if not, still improve your life quality immeasurably.  If you want to thrive as an expatriate, consider and embrace them:  they are the grit in the proverbial oyster shell that will allow you to find the pearls available when you let go of the comforts, convenience and familiarity of your "first world" country.
1.   Exercise Your Brain
Research has shown that learning a new language even later in life improves cognitive function and can delay onset of dementia.     Assuming you don't know the language of your adopted country, if you really want to understand its' culture, experience its' richness, and not be limited to living in a gringo bubble, you get to take on the challenge of learning a new language.  (Excuse my American ethnocentrism here – if you're European I suspect you already know at least three languages and thus are well ahead of the game both in the communication and healthy brain departments!)  I don't know about you, but at age 64 keeping my brain as young, strong and functional as possible is definitely in my top three priorities!
2.   Mobilize your Ingenuity & Creativity
U.S. natives, of whom I am one, are spoiled for choice and convenience.   Sixteen months as an expat in Ecuador has shown me that too much choice and convenience make us lazy because we don't have to create what we need or want, we just hop in the car and go shop for it.  In a developing country you get to re-engage your ingenuity when you can't find the item, much less the specialty store that has what you need (and yes, I still dream of cottage cheese, real maple syrup,  gutter flashing to prevent further water erosion of our balcony cement wall, and you name it….).  When you have to continually problem-solve, take new risks, get back to making things, and collaborate in new ways with locals and expats alike,  you get  both  the immediate outcomes you are seeking and the deeper long-lasting benefits of  increased creativity, resilience and sense of self-efficacy.   A good recipe for graceful aging.
3.   Test Your Limits, Expand Your Sense of Self
Encountering challenges, unknowns, strangely different norms, customs, and expectations forces you to confront the habits of thinking, feeling, and acting that keep you from being a more fulfilled, happier being.  We all have them.  Like it or not, you will be stretched. You will grow and expand in your ability to detach from those habituated patterns of attention (thinking, feeling, or behavior) that sub-optimize what is possible, and experience greater equanimity and acceptance of what life brings.
4.   Increase Your Ability to Live More Simply Yet Richly
"Creativity is a biological and spiritual impulse that arises out of our innate restlessness to make things new, better, beautiful, and true."  The simpler life is a potent catalyst for rediscovering and rejuvenating one's creativity which is itself the spark of new life.  In the process of creation, whether we consume the fruits and products of our labors or enjoy them ongoing in our lives, they are so much more enriching and fulfilling than buying them in the store.  Witness one of my newfound delights – buying unfinished furniture and creating art!  [Big thanks to Kathy McCullough of IdiomArt for the inspiration]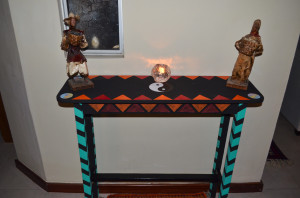 5.   Strengthen your Resilience
As I mention above, mobilizing ingenuity and creativity, and testing your limits will inevitably strengthen your resilience but it's worth highlighting.  Simply put, resilience is the single most important factor in well-being, and you can't have enough of it if you want to enjoy the later years with all their joys and sorrows.  In aging studies, resilience and depression (or lack thereof) had significant associations with self-rated successful aging, with effects comparable in size to that for physical health.  That being said, of course you want to make sure your new home does have the basic services you need, such as good medical care!
6.   Contribute to the common good
Developing countries by definition have gaps in various areas of their development. That means lots of opportunity to introduce and spread your talents and strengths to enrich the culture and society of your new home. A few examples of the many wonderful groups and activities in Cuenca I've encountered are Dance Club Cuenca, Fishbon del Sur, , Hearts of Gold Foundation, and FAAN.
Unlike the U.S. where there's so often a glut of choices in any given niche, here there's a great receptivity to and hunger for  healing and personal growth services, spiritual and philosophical study groups, writers groups, artist collaboratives, performing arts groups…..the possibilities for contribution and personal fulfillment (not to mention business) are endless.
Want to rejuvenate, reinvent, and grow yourself?  A move to a developing country may just be your answer.
What benefits have you discovered in your moves, international or domestic, that made them so much more rewarding than you could have known beforehand?  And if you've made other changes that required a leap of faith, what were the rewards?